The new year often begins with new resolutions. It might be a pledge to cook at home more, or to try out a new hobby. For a lot of us, it's getting back into our fitness routines that we may have let slip during the silly season.
Lucky for us Kiwis, the new year brings us long days and good weather, so it makes it easier to get outdoors and get moving. One of the best ways to reignite your fitness is by running.
We all know that running is a great way to burn calories and tone up. Another major benefit? It's great for your heart. Studies have proven that running 10 minutes a day can significantly improve your cardiovascular health.
Not to mention running is a great way to clear your mind and relieve stress. The endorphins that are released when running counteract pain and stress. So if you've had a bad day at the office, hitting the track can turn your day around and leave you with that feel-good "runner's high."
For those starting out on running, the idea of a 5km jog can be a bit daunting at first. But it doesn't have to be if you've got the right attitude and have read up on what to do. Here are our tips to get into running…
5 tips when starting out running
1. Set a goal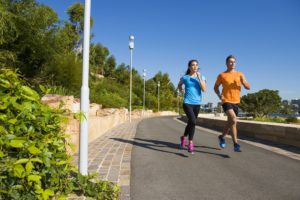 Any trainer will tell you, setting goals is a crucial part of achieving results. When it comes to running, set big goals and small ones.
Think of a big goal as the place where you want to reach, and small goals the stepping stones that get you there.
For example, if your big goal is to run a half marathon, challenge yourself to run an extra 2 km every week.You'll soon find that achieving even small goals will be a huge confidence boost and drive you towards the bigger goal.
2. Take care of your feet
The first thing you should do before setting out for a run, is make sure you've got good quality running shoes that are fitted right.
Think of a good running shoe like a good partner: they should make you feel comfortable and supported – especially for those long walks (or runs) on the beach.Even if you already have a pair of well-loved trainers, it's always good to check they're performing the way they should be. Properly fitted shoes reduce chances of injury and blisters while also supporting joints and muscles and aiding proper running gait and posture.
The best thing you can do for your feet is to get your shoes fitted by an expert. Most shoe stores will have trained fitting experts to help you find the best running shoe and the right fit. ASICS Running Expert stores offer free gait analysis and fitting so you can find the best running shoe for you. There are Running Expert stores across New Zealand or, if you're in Auckland, check out the range of performance running shoes at the ASICS store in Auckland and take advantage of their expert fitting and Foot ID Analysis.
3. Start with a run/walk combo
For those starting out running, breaking it up with short walk breaks is a great way to ease into a full running routine. Start by jogging for one minute and walking for two. Each time you hit the track, push yourself to run an extra minute.Smaller, more achievable goals like this will ease you into your running routine and help you move closer to your larger goal.
4. Drink plenty of water
When it comes to hydrating while running, the best thing to do is listen to your body. If you're thirsty, drink water.And if you're breaking a sweat, then you're guaranteed to become thirsty. Running outdoors on a hot day will also increase your thirst. Make sure you've always got access to water while on a run, whether that be a bottle, hydration pack or a park water fountain.
5. Find a partner to run with
Having someone to run with is a huge motivator to keep you active. A running buddy pushes you to actually get out and go running in the first place. Plus they can challenge you to keep up a certain pace – who doesn't love a little competition?Sometimes it's better not to focus on the running, so having a friend to keep your mind off it can make the jog fly by.And for those who prefer running alone, blasting a little Beyoncé through your headphones never hurts.
Bonus tip: Try running off-road on softer ground first. It will ease your joints and muscles to the impact of running.
Looking for a running buddy, or even a group? The ASICS Move Club is a free, local Auckland running group designed to keep running social and fun. With two groups leaving every Thursday evening from Shortland St, explore the best running routes in and around the city with your running crew.
Are you ready to smash that new year resolution?
Lace up those trainers and start running today.
This post is possible thanks to ASICS New Zealand. ASICS offers performance Womens Shoes and Clothing and Mens Shoes and Clothing that keep you looking and feeling great.