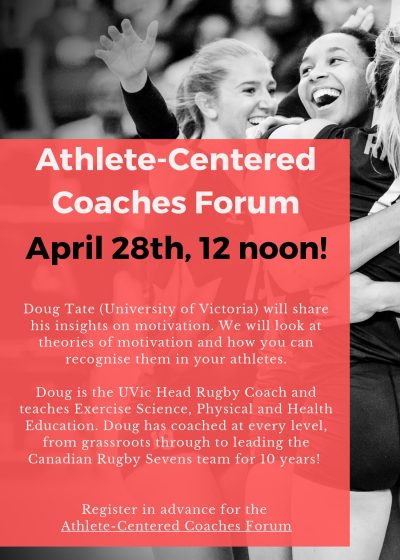 FREE – Athlete-Centered Coaches Forum – MOTIVATION – Wednesday 28th April at 12:00pm
Join us online to hear from Doug Tate about Motivation. Doug is the current University of Victoria (UVic) Head Coach of Men's Rugby. In addition to that, he teaches in The School of Exercise Science, Physical and Health Education at UVic. Doug has a significant amount of experience, including coaching the Canadian Men's National Rugby Sevens team for 10 years to 3x Commonwealth Games and 2x World Cups.
After registering, you will receive a confirmation email containing information about joining the meeting.
The Athlete-Centred Coaching Forum is an easily accessible platform to share research ideas and stimulate conversation leading to innovation in coaching. This online forum will involve a presenter (who shares ideas) and facilitator (who stimulates conversation).
What will I learn?
In this webinar, you will learn about:
Research related to theories of motivation, how you can recognise motivation in your athletes and ideas to take away to make motivation practical within your coaching.