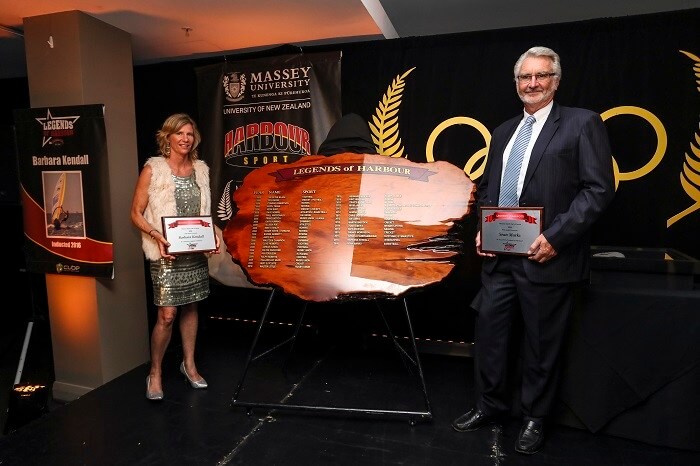 Legends of Harbour Sport
To recognise outstanding sporting achievements by Harbour athletes and coaches who have made a significant impact on our sporting heritage.
A legend is a person who has contributed to the Harbour Region and made an impact on the community through their sporting achievement.
Congratulations to our 2021 Legends of Harbour Sport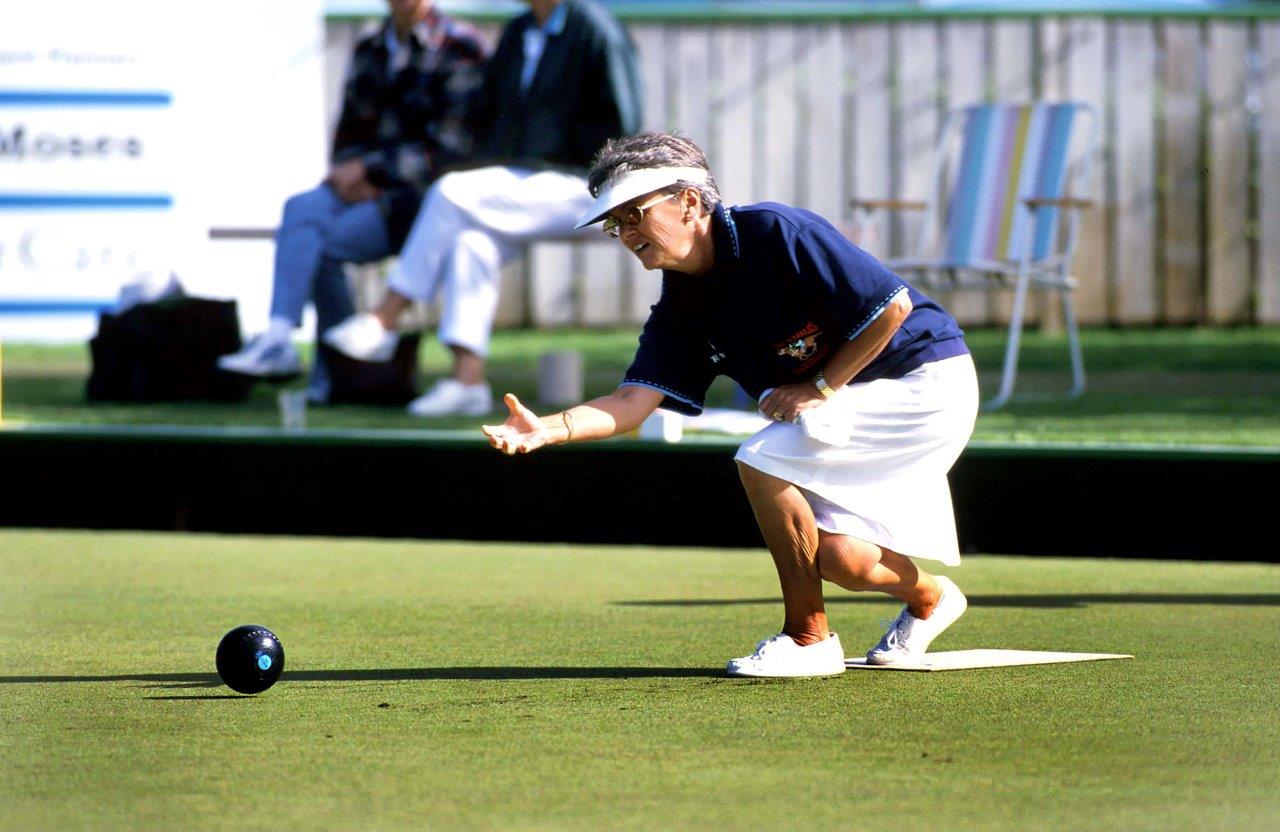 MARLENE CASTLE
New Zealand bowls representative Marlene Castle won a gold medal in the singles at the World Indoor Bowl Championships in 2000. She also won bronze in the triples at the 2004 World Outdoor Championships.
A veteran of four Commonwealth Games, Marlene Castle won a silver medal in the fours in 1990. Again as part of the women's fours team she won a bronze medal at the 1994 Commonwealth Games, and another bronze, this time in the women's singles at the 2002 Commonwealth Games.
Marlene Castle won a total of twelve medals at the Asia Pacific Bowls Champsionships from 1989 to 2003, five of which were gold. She won numerous national titles including the 2001 pairs title and the 1999 fours title when bowling for the Orewa Bowls Club.
In 2013, she was an inaugural inductee into the Bowls New Zealand Hall of Fame. Marlene is a former Auckland bowls administrator, and her daughter is Raelene Castle, Chief Executive of Sport New Zealand.
GLEN OSBORNE
Glen Osborne joined North Harbour Rugby in 1992, however it was 1994 before Oz (as he is affectionately known) established himself playing 19 games for the Union and scoring 95 points (including 15 tries); representing NZ Maori and was invited to join the All Black Training squad preparing for the 1995 Rugby World Cup.
He played Full Back in the infamous "Suzy" RWC final where the All Blacks, severely affected by food poisoning, lost in extra time 15-12 to South Africa. Osborne was also selected for the 1999 Rugby World Cup.
In a career truncated by injury, Osborne represented the All Blacks (#945) on 29 occasions, (primarily as full back, but also on the wing alongside Christian Cullen, Jonah Lomu, Jeff Wilson and Tana Umaga) and scoring a total of 17 tries. He had the distinction of playing for every team in the Black jersey – All Blacks, NZ Maori, NZ 7's, NZ Colts, NZ Divisional XV, NZ Academy and NZ A. He also had playing stints both in France and Japan.
Representative Career
All Blacks – 19 tests, 10 tour games (85 points)
New Zealand Maori – 9 games (53 points)
Chiefs – 19 games (40 points)
Hurricanes – 8 games (10 points)
North Harbour – 69 games (166 points)
Wanganui – 20 games (16 points)
Other First Class matches – 26 games (188 points)
Total 180 games (558 points)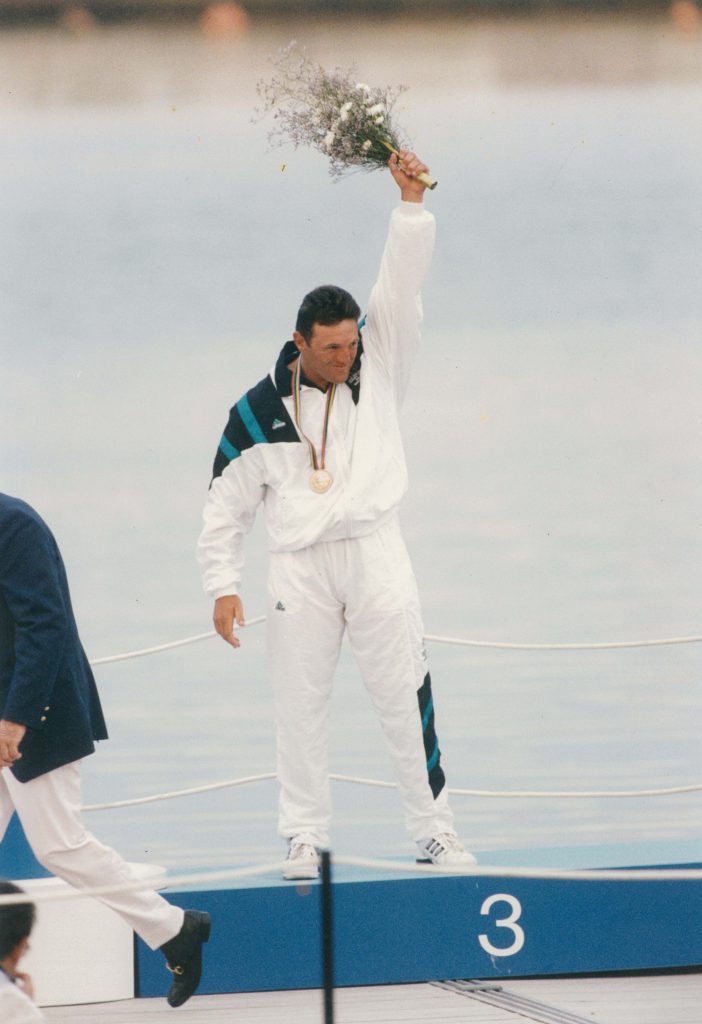 CRAIG MONK
Craig Monk had a fine junior and youth career in sailing, winning the P class Tanner Cup and then the Starling nationals before later establishing himself as New Zealand's pre-eminent Finn class sailor winning the national title every year from 1989-96. Craig sailed to win the bronze medal at the 1992 Barcelona Olympics, where there were 28 Finn class entrants. He also competed at the 1996 Summer Olympics in Atlanta after narrowly beating future America's Cup skipper Dean Barker for selection to the New Zealand team. He finished 13th.
Besides his outstanding record in Finn class sailing (he was ranked No 1 in the world in 1993), Monk was in demand by America's Cup syndicates and was recruited by Russell Coutts as a grinder for the successful 1995 Team New Zealand campaign and was again with Team New Zealand for the successful defence in 2000.
Craig kept his hand in other forms of sailing and teamed up with Gavin Brady in some Star class regattas, winning a silver medal in the 2009 world championships. 
For four years from 1989 he ran his own professional sailing company working with yacht clubs in the Auckland region. This involved on water junior sailing programmes and specialist one on one coaching with dinghy sailors.
From 1996-2001 he was one of the first two professional sports people in New Zealand to work for and be funded by the Hillary Commission, to provide sports leadership training to youth throughout New Zealand. Entitled Dare to Dream, this programme involved sessions on, having a dream, motivational goal setting, the importance of role models and staying focused and commited for the long haul.
1. Athletics Dave Norris 2008
2. Athletics Allison Roe 2008
3. Cricket/Hockey Vera Burt 2008
4. Cricket Ces Dacre 2008
5. Kayak Ian Ferguson 2008
6. Kayak Paul MacDonald 2008
7. Rowing Andy Hay 2008
8. Rowing Barrie Mabbot 2008
9. Rowing Conrad Robertson 2008
10. Rowing Mike Stanley 2008
11. Rowing Keith Trask 2008
12. Rowing Roger White-Parsons 2008
13. Rugby Union Frano Botica 2008
14. Rugby Union Wayne "Buck" Shelford 2008
15. Soccer Adrian Elrick 2008
16. Swimming Malcolm Champion 2008
17. Swimming Gary Hurring 2008
18. Clive Roberts 2008
19. Yachting Sir Peter Blake 2008
20. Rugby Union Hallard Leo "Snow" White 2009
21. Cricket Bert Sutcliffe 2009
22. Yachting Ralph Roberts 2009
23. Rugby League Bernard Tom Hadfield 2010
24. Rugby Union Walter Little 2010
25. Rowing Eric Verdonk 2010
26. Weightlifting/ Bobsleigh Nigel Avery 2011
27. Netball Tracy Shortland 2011
28. Triathlon Hamish Carter 2012
29. Rugby League Gary Freeman 2012
30. Rugby Ian Jones 2013
31. Sailing Chris Dickson 2013
32. Cricket Martin Snedden 2013
33. Weightlifitng Tony Ebert 2014
34. Sailing Roy Dickson 2014
35. Rhythmic Gymnastics Angela Subramaniam 2015
36. Cricket Danny Morrison 2015
37. Windsurfing Barbara Kendall 2016
38. Basketball Sean Marks 2016
39. Sailing Tom Ashley 2017
40. Netball Tania Dalton 2017
41. Pistol Shooting Greg Yelavich 2018
42. Yachting Jan Shearer and Leslie Egnot 2018
43. Yachting Sir Russell Coutts 2019
44. Rugby Hannah Porter 2019
45. Rugby Frank Bunce 2019
46. Lawn Bowls Marlene Castle 2021
47. Rugby Glen Osbourne 2021
48. Yachting Craig Monk 2021