Rewarding Young Elite Athletes
The Hand Up Fund was created by Harbour Sport as a result of an initial partnership set up with Rotary Browns Bay.
The Hand Up Fund is aimed at supporting elite young athletes to help them on their journey to the next level. Athletes can receive up to $1500. (The Hand Up Fund amount will increase as more funds are secured in future years). Up to six finalists will be selected and invited to the Harbour Sport Excellence Awards with the winners being announced on the night (2021 date TBC).
Hand Up Fund
In 2016, multiple items of sporting memorabilia kindly donated by Not For Me and various RSO's were auctioned both on Trade Me and via a live auction at the Harbour Sport Excellence Awards. These items included a Joseph Parker Signed Boxing Glove, Sir Edmund Hillary Signed $5 Note, and a Jack Nicklaus Signed Golf Ball. Other items that have been donated in the past include: Silver Ferns signed netball, Lydia Ko signed club cover and putter, signed All Whites shirt, Stacey Michelson's Rio Olympics hockey stick signed by 7 members of the NZ Olympic team, John Key signed golf ball, and Sam Webster signed 2014 World Championships track cycling jersey. The auction of these items and many more helped us secure funds for the next Hand Up Fund funding round. If you know of anyone who is willing to donate such an item to the fund, please contact us!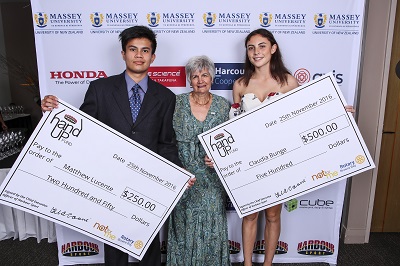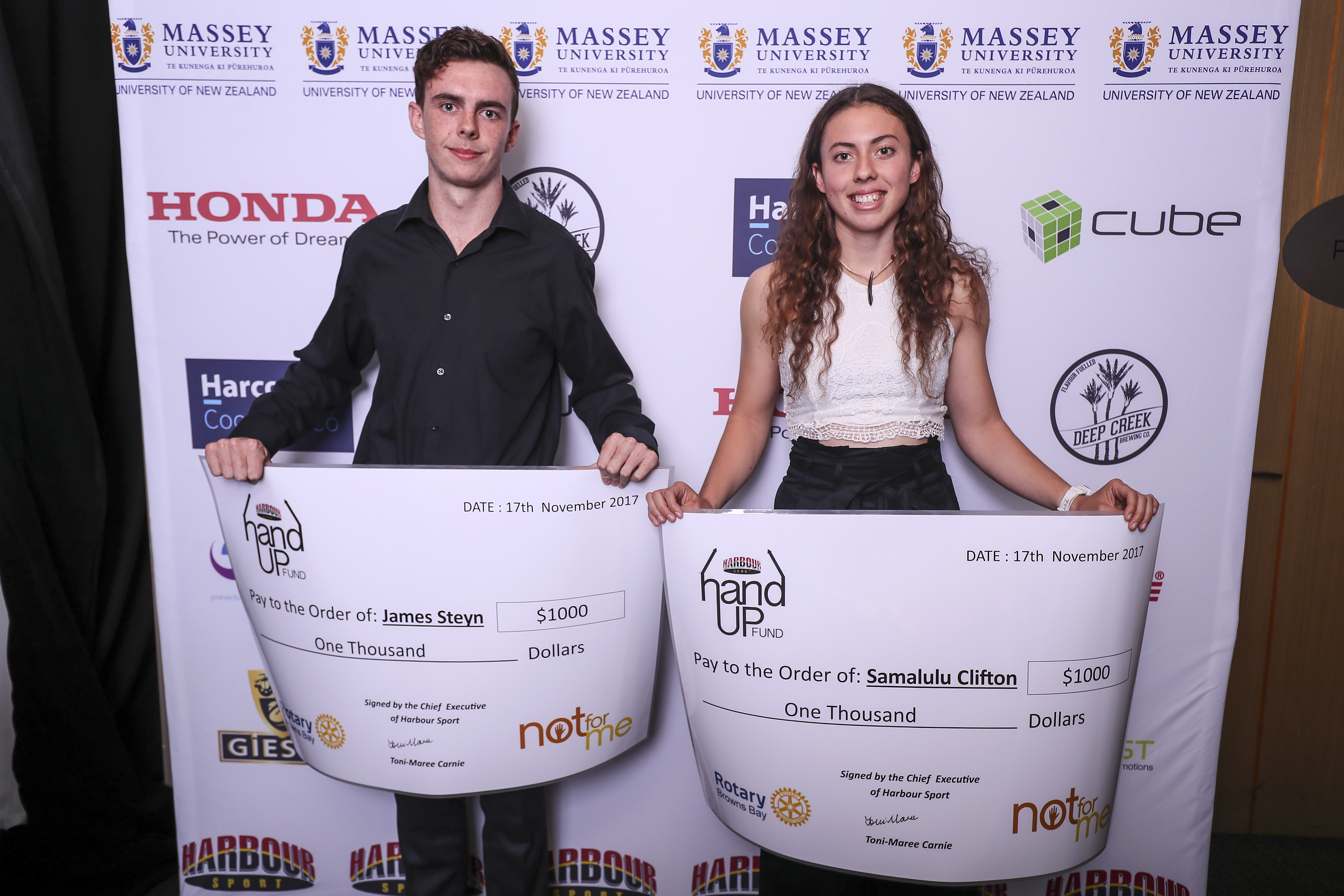 Matthew Lucente (Squash North Harbour) – $250
Claudia Bunge (Northern Football) – $500
Kate Burley (North Harbour Netball) – $750
James Steyn (North Harbour Bays Athletics) – $1000
Samalulu Clifton (North Shore Canoe Club) – $1000
Macsen Sisam (Tennis Northern) – $1000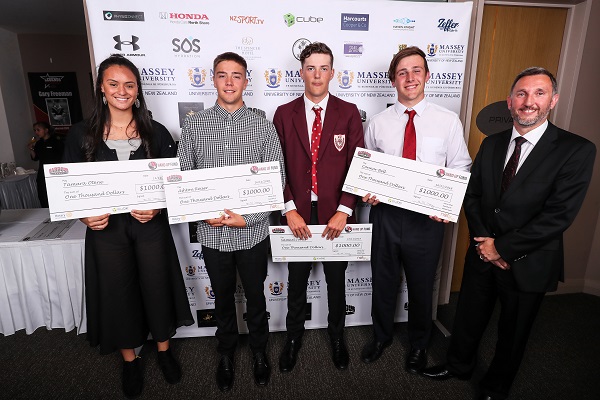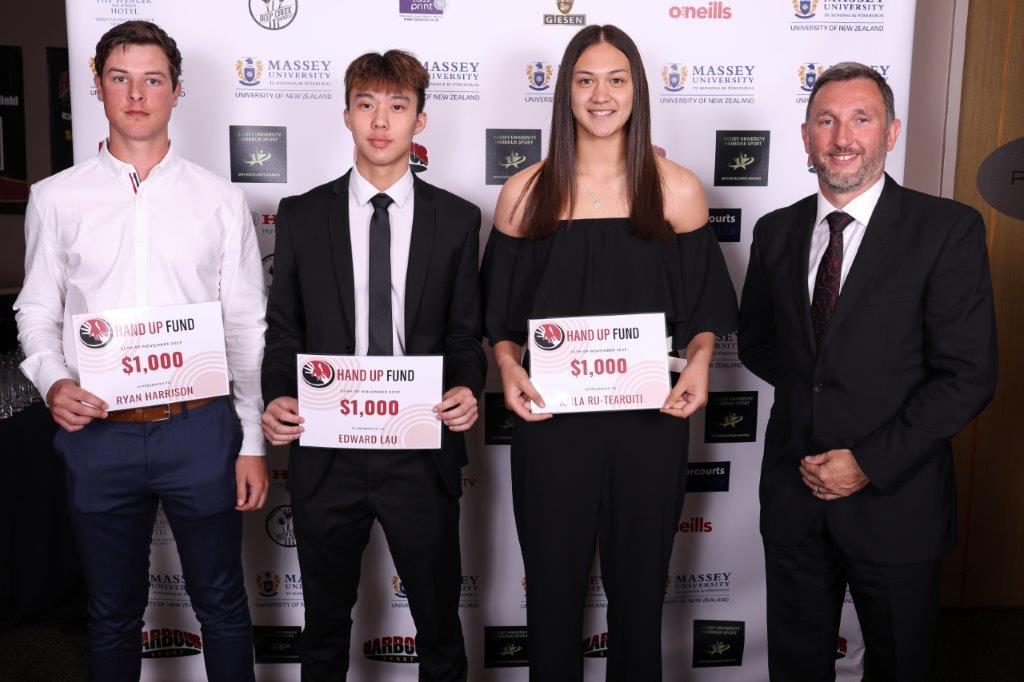 Tamara Otene (Volleyball North Harbour) – $1000
Ashton Reiser (North Shore Canoe Club) – $1000
Samuel Jones (North Shore Rowing Club) – $1000
Connor Bell (North Harbour Bays Athletics) – $1000
Oscar Guo (North Harbour Badminton) – $1000
Ryan Harrison (North Harbour Cricket) – $1000
Edward Lau (North Harbour Badminton) – $1000
Kaila Ru Teraoiti (North Harbour Volleyball) – $1000

Getting Funding For Your Athletes
Harbour Regional Sports Organisations are welcome to nominate one athlete of their choosing (per funding round) to potentially receive a portion of the fund. If a sport has no RSO on the North Shore, the NSO can nominate. 
Step by Step:
1. Read through criteria to determine eligibility of athlete.
2. Athlete to complete the questions on the form (information required from athlete) below and send to nominator (RSO).
3. RSO to complete application form using information from the athlete.
4. RSO to source and provide an item of sporting memorabilia or equipment for the fund.
Criteria:
The athlete must…
Be aged 16-20 on the 1st of September 2021.
Be currently representing New Zealand at a junior or development level (not having yet achieved senior honours).
Benefit from the grant through supporting their opportunity to compete at the next level (through helping to pay for equipment, travel costs etc.).
Reside in the North Harbour region, or play for a North Harbour club.
Agree to complete a case study (about how the grant has been used) within 12 months of being awarded the grant in order to receive the full amount (80% will be payed up front. The remaining 20% will be payed once the case study has been received).
The RSO or NSO must…
Donate an item or prize of some kind (i.e. sports memorabilia, pack of equipment, or a sporting experience) to the Hand Up Fund with a minimum value of $100.
Complete the following application form.
Nominations are now open for 2021 
 For more information, please contact Sarah
Donating To The Fund
All money raised for the goes back into developing the fund. Money is used for:
Grant for the athlete.
Framing of sports memorabilia.
Payment of SEA tickets for finalists.
By donating through the link below, you are assisting us in our pursuit of making high level sport available to all. Our vision is to expand the fund to support more and more athletes each year. If you also have any sports memorabilia which you would be willing to donate, please contact us. Through even the smallest of donations, you are helping us reach this goal and support our local young sportspeople.
Make a Difference
 You are helping us reach this goal and support our local young sportspeople!
Latest Resources and News
Job Vacancy for a Office Admin and Technology Support Specialist at Harbour Sport! Are you super organised, friendly, a problem solver, passionate about IT and have a 'can do' attitude? Apply Now!
Report shows physical activity level of Auckland's Asian communities significantly impacted by COVID-19 A report into the impact of COVID-19 restrictions on the physical activity level of Asian communities across Auckland is providing helpful insights for the sport...
The ICC Women's Cricket World Cup 2022 is coming to Aotearoa for 31 incredible matches across 31 action-packed days and you can be there for all the world class action. Five teams qualified, three to go - WHO WILL YOU BE BACKING?