Alvin Cheung
ActivAsian Development Manager
Naomi Stewart
ActivAsian Capability Manager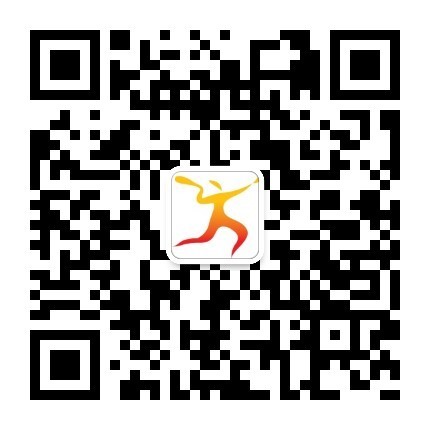 Quick Links
ActivRecreAsian
Chinese Sport Forum
Asian Sport Survey – Primary School Students

Inspire, empower, and collaborate with the Asian community primarily through sport and active recreation. 
In the 2006 census, 17.8% of the North Shore population were classified as Asian, and of those 44% were Chinese and 23.9% were Korean. These populations statistics are growing every year. Therefore, increasing sporting opportunities for all ethnic groups across the North Harbour Region is an important goal for Harbour Sport. To facilitate this goal Harbour Sport created a project called "ActivAsian".
Since the start of the project in 2009, ActivAsian aims to inspire and empower the asian community to be active and lead healthy lives. This is achieved by making sporting information more accessible, improving the capability of Regional Sport Organisations and clubs in engaging the Asian communities, and ultimately increasing sporting opportunities.
The ActivAsian initiative has 4 key objectives:
Build capability
Increase participation
Increase physical literacy
Be an advocate 
The ActivAsian team work to model integrity (we do what we say), lead with purpose (we do things with reason), respect our roots (we accept who we are), and to celebrate differences (we bring people together). 
We are passionate about what we do, and strive to provide the best quality experience for our communities. Therefore, we can ensure the holistic benefits of participation in sport and recreation is received, subsequently improving people's quality of life and contributing to a sense of belonging in New Zealand.  
活跃亚裔背景资讯
2006年的人口调查显示,亚洲人占北岸总人口的17.8%,其中的44%为华人, 23.9% 为韩国人。为北岸地区所有族群增加体育机会是Harbour Sport非常重视的目标。为了促进这个目标Harbour Sport启动了"活跃亚裔"计划.
从2009年开始,'活跃亚裔'的主要目的是鼓励亚裔社区参加体育运动,主要针对华人和韩国人。我们主要的工作在于使亚裔社区可以更轻易的得到体育运动信息,改善地区体育组织在亚裔社区推广体育运动的潜力,并提高亚裔人民参加体育运动的机会。
活跃亚裔计划
"活跃亚裔"倡议有以下目标:
提高华人体育运动的机会,尤其以学龄儿童及其家长为重点
使华人社区可以得到更多有关参加体育和娱乐活动的信息
鼓励更多华人参与体育运动
액티베아시안 배경 정보
2006년 센서스 조사에서 노스쇼어 거주 아시안인구는 17.8% 이며, 그 가운데 44%가 중국인으로 분류됩니다. 노스하버 지역을 걸쳐서 모든 인종들의 스포팅 기회를 증대시키는 것은 하버 스포트 의 중요한 목적입니다.
2009년에 시작된 이래로, 액티베시안 프로젝트는 아시안 커뮤니티 특히, 노스쇼어 지역의 중국인과 한인에 집중하여 그들의 스포츠 참여 증가에 목표를 두어왔습니다. 이런 목표는 스포츠에 대한 정보의 접근성을 증가시키고, 지역 스포츠 기관들과 클럽들이 아시안 커뮤니티와 연계하는 능력을 증진시킴으로서 궁극적으로는 아시안 커뮤니티 내에서 스포츠 기회를 향상시키는 것으로 이루어지게 됩니다.
엑티베이시안 프로젝트
하버 스포트의 엑티베이시안 프로젝트는 중국 커뮤니티를 우선적으로 한 구상계획이었습니다.
이 계획의 세가지 주요 목표는:
아시안들의 스포츠 활동기회, 특별히 취학아동들에게 집중된 기회를 증진 시킵니다
아시안 커뮤니티의 스포트와 레크레이션 기회들에 관한 정보 접근성을 증진 시킵니다
더 많은 아시안들이 스포트에 참여하기를 장려 합니다
Connect with the Asian Community
We have established connections and relationships with Asian community groups and individuals through our initiatives and can assist in connecting your sports with these communities. The Chinese and Korean Sport Engagement Toolkit is a resource to assist organisations in engaging into Sport on the North Shore.
Harbour Sport Youth Programme - Where Future Leaders Form
The Harbour Sport Youth Programme is an initiative dedicated to empowering and upskilling future leaders in a supportive environment, whilst fostering positive identity. The programme is designed to cultivate and create confidence, sense of belonging, growth, leadership, development and more. 
Outdoor Recreation
ActivRecreAsian and Walk With Us are outdoor recreation initiatives which connects the Asian community on the North Shore with the great outdoors, encouraging safe participation and social connection.
Collaboration - Lets Work Together
ActivAsian is always open to opportunities to collaborate and share resources as this has been vital to the success of our initiatives. If you would like to discuss collaboration opportunities, please contact us.
Alvin Cheung
ActivAsian Development Manager
Naomi Stewart
ActivAsian Capability Manager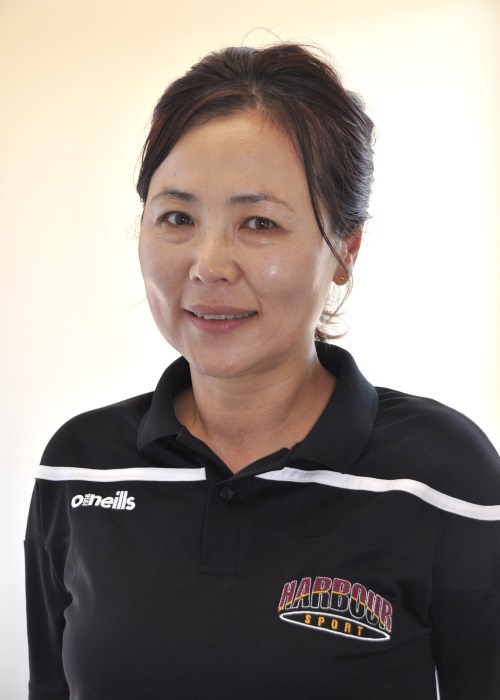 Marian Park
ActivAsian Coordinator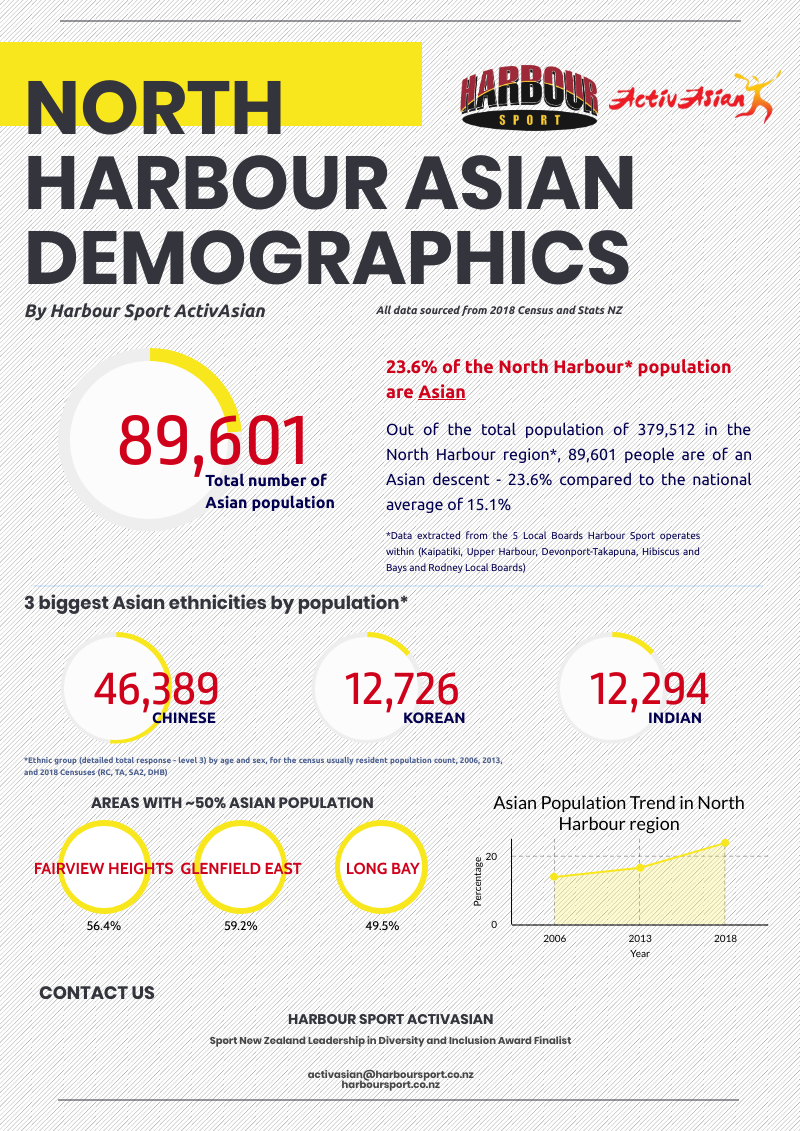 NORTH HARBOUR ASIAN DEMOGRAPHICS
Harbour Sport ActivAsian is delighted to present the latest North Harbour Asian Population Infographic (2018 – date), featuring the total Asian population in the North Harbour region as well as other insightful data.
For the purpose of this infographic, the North Harbour region is defined by the geographic boundaries of the five Auckland Council Local Boards that Harbour Sport operates within, which are Upper Harbour Local Board, Kaipatiki Local Board, Devonport-Takapuna Local Board, Hibiscus And Bays Local Board and Rodney Local Board.
Not only does this highlight the exceptional numbers of the Asian population residing in the region, but it also emphasises the significance for sports organisations, or any businesses for that matter, to focus on cultural intelligence and ethnic engagement.
The Harbour Sport ActivAsian initiative has spent the last 11 years empowering, inspiring and collaborating with the Asian community. We have a wealth of experience, expertise and resources to support and develop your organisation and/or business.
Please get in touch with us if you would like to gather further insights into the Asian community and how we might help you. Email activasian@harboursport.co.nz for more information.
Latest Resources and News
Seeking Expressions of Interest for Board Members Have you got skills, expertise and a passion for making a difference? At the 2020 AGM in September there will be one vacant position to be appointed to the board. Please send your expression of interest with a CV to...
read more