COVID-19 UPDATE
Click Image Below to Expand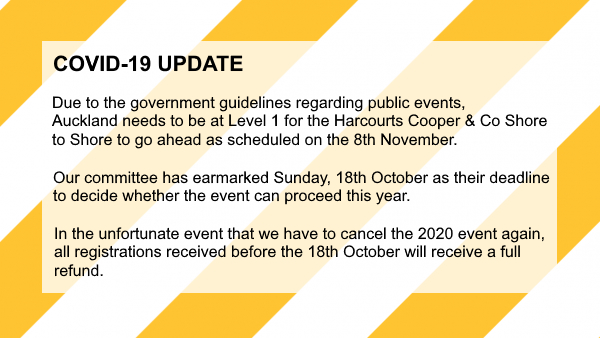 Lara Gunn
Wow… what an AWESOME event!!  This was a first for my 5yr old daughter Sienna and I, and we both absolutely loved it!  Thank you for bringing families and the community together on this special day.  Next year we will definitely have the whole family and all our friends involved 🙂
Keryn Grogan
Thanks for the great event on Sunday!  It was my first time and I did it with my 6 year old boy.  The wait was a little too long for him in the morning and the speakers were VERY loud but other than that, we thought it was very well organised and a great way to engage the school community and keep active. Thank you.
Great Exposure for Your Business!
Why not show off your products or service to over 5000 locals?
Talk to us about a partnership opportunity!
THANK YOU
Shore To Shore 2020 was another great success, and we have each and every participant to thank! The 5.9km fun run/ walk from Takapuna to Milford on Sunday 8th November was a great event with some awesome costumes, a great sense of school pride amongst the various school entries and the streets were filled with a whole lot of contagious laughter and fantastic enthusiasm!
We already can't wait for 2021 Shore to Shore to do it all again!
Shore to Shore is the North Shore's largest 5km fun run with just approximately 5,000 participants entering every year. The run starts at Takapuna Grammar School, heads along both the picturesque  Takapuna and Milford beaches and ends at Milford Reserve. This event brings together the North Shore community and supports local schools by providing them with an opportunity to raise funds for much-needed sports gear. A great opportunity for Friends, Parents, Aunties, Uncles and Grandparents get together,  dress up, and join us for the fun!