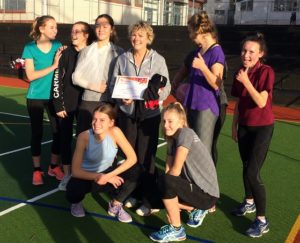 July's edition of the volunteer of the month saw an outstanding nomination from Carmel College. Natalie Linstrom, a mother as well as a role model, started volunteering at Carmel College in 2015. Her services vary from coaching, managing, carpooling and nursing. Any vacant role and Natalie will step up!
Since her arrival, Netball has stood head and shoulders above other activities. She has created a fun and flourishing environment to all girls that partake in the sport. Her radiant personality and perpetual positivity has clearly been mirrored with everyone that she works with.
All the hard work Natalie puts in is verified in the statement provided by her nominator:
"We are incredibly lucky to have such a wonderful role model for the girls. Someone who genuinely cares about the teams she is involved with and continues to upskill herself to keep growing the players under her care. She is an amazing role model for the girls and for the other parents involved in sport, her friendly disposition and growth mind-sets ensure that all teams she is involved with always have her full attention."
Volunteers are paramount to the running of sport and Natalie's work ethic and determination is an inspiration to all those she works with. She is an integral part of the school and undoubtedly a positive influence on the development of those that attend.
Natalie's volunteer of the month award is well deserved. However, this award would not be possible without the people who nominate them and recognise their sacrifices. If you wish to nominate someone exceptional in your area then please take some time to fill in the survey below!
"Service to others is the rent you pay for your room here on Earth." — Muhammad Ali