It's easy to assess and reduce your falls risk
Falling over shouldn't be considered part of the normal ageing process, but as we grow older, underlying conditions or problems with balance, strength or mobility do increase our risk of falling.
The good news is with regular leg strength and balance exercise, you can reduce your risk of falling by up to 30%.
Photo courtesy of Amanda Billing
Assess your falls risk:
Have you had a trip, slip or fall (or near fall) in the last year?

Are you missing out on activities you enjoy because you are afraid of losing balance or falling?

Have you started finding it harder to get out of a chair without using your hands?
If you've answered yes to any of the above questions, you could be at risk of a fall.
You can self- refer into our falls referral service. We support you to find an appropriate exercise class and send you an easy at-home workout.
The earlier you get onto it, the sooner you will benefit.
If you're unsure, talk to your doctor or health professional.
By attending Community Strength and Balance approved classes, you will:
Improve your leg strength and balance

Reduce falls risk by up to 30%

Meet new people in your community
Community Strength and Balance approved classes have been assessed against an evidence-based criteria to ensure they are safe and effective for people 65 years and over.
There are 3 levels of community strength and balance classes available, suitable for differing levels of mobility. It's important to go to a class which caters for your mobility level
Level 3 Full mobility and moderate fitness – good level of fitness and wanting to maintain this, confident in participating.
Level 2 Reasonable mobility – does not use a walking aid and/or currently engaging in some physical activity.
Level 1 Limited Mobility – use of a walking aid, restricted activity, and or does not engage in regular physical activity.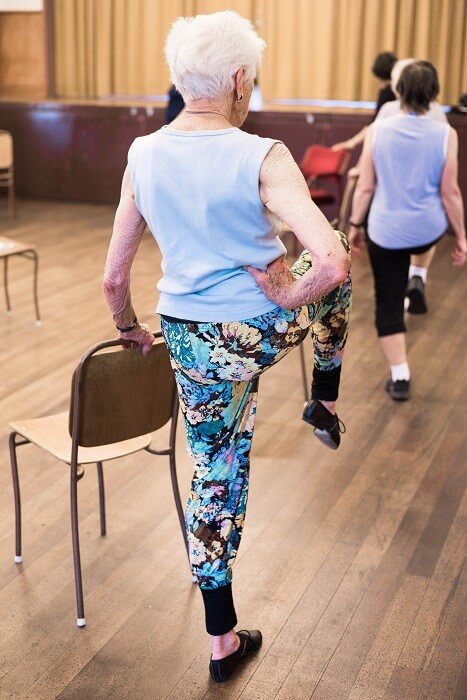 Photo courtesy of Amanda Billing
So the message is, stay as active as possible as often as possible.
A Community Strength and Balance approved class is a good place to start!!