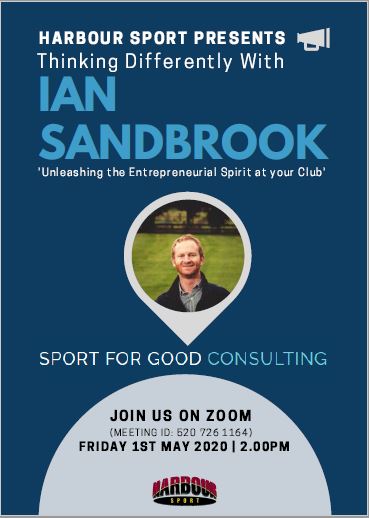 ? INSPIRE YOUR SPORTS CLUB, INSPIRE YOUR COMMUNITY ?
Harbour Sport  presents 'Thinking Differently' – How Sporting Organisations can "Unleash the Entrepreneurial Spirit" at their club.
"Entrepreneurial spirit is a mindset. It's an attitude and approach to thinking that actively seeks out change, rather than waiting to adapt to change."
We are extremely fortunate to have Ian Sandbrook from Good Sports Consulting as our Guest Speaker. Ian has been providing support across the sector and his real-world advice, wisdom and relevant examples have been well received.
We are encouraging Clubs and RSO's who are ready to make the most of the numerous opportunities that COVID-19 has created to join us.
Ian will discuss the importance local communities play in a thriving sport clubs environment, and how your club can inspire your people and reshape the way you do things moving forward.
Join us on Zoom this Friday at 02.00pm –  Meeting ID: 520 726 1164