Bikes in Schools
This project aims to provide all children with the opportunity to learn how to cycle confidently and competently and have regular access to bikes at school, providing the means by which children may become healthier individuals.
How is this achieved?
Constructing a cycle track around the perimeter of the school field as well a pump track (mini BMX) and a cycle skills track on the school grounds.
Schools receiving 30-50 bikes and helmets which belong to the school.
Cycle training for all teachers so that they can deliver fun, cycle and fitness sessions during PE utilising the bikes.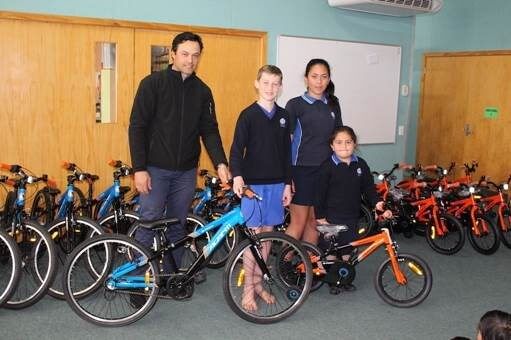 During the school holidays Kyle and Lois will be delivering cycle skills teacher training to all staff at the school in preparation for the track and bikes to become a part of the curriculum in term 4.  Thanks must go to Auckland Transport who have supported the Bikes in Schools teacher training for Parakai School.  A more formal opening is planned for later in term 4 with the hope that local MP John Key can attend.
Parakai School
It has been three years in the making but now Parakai School have officially implemented a Bikes in Schools project. On Monday 15th September, Kyle and Lois from Harbour Sport teamed up with Toni Dale from Bikes in Schools to officially present bikes and helmets to the school during their morning assembly. Principal Nick Neubert formally welcomed us to the school and then handed over to chairman of the board Des Ross who has been the driving force behind the project. Des gave a brief history of the project thanking Harbour Sport and Bikes in Schools for their contribution throughout the project.
Wellsford Primary School
In 2012, following the launch of Bikes in Schools track, 61 children were timed completing one lap of the 410m track nd then the same children were re-timed 6 months later. The results were positive and indicate an increase in fitness and ability on a bike:
80% of the pupils cycled the lap faster in November compared to baseline
There was a 13% increase in speed overall
20% of children increased their time by more than 20%
Since the track was launched in March 2012 pupils of Wellsford Primary have had the opportunity to cycle weekly on the school bike and this is resulting in fitter more confident children.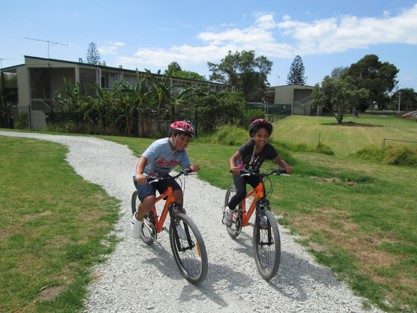 Onepoto Primary is the only decile 1 school in the Harbour region. It has Pacific Island and Maori demographics of 58% and 32% respectively. Bike ownership is known to be lower amongst these populations so this project will provide access to cycling for all these pupils and their families who live in this community.
Onepoto Primary School
The construction of 3 bike tracks (a pump, skills and 550m riding track) was completed in January 2013 at Onepoto Primary in Northcote in time to start the new school year. 25 new bikes and 150 helmets were fully funded by Harbour Sport and Bike On NZ Charitable Trust for the track and will remain at the school to be used during class and lunch times.
Harbour Sport, Auckland Transport, Bike On NZ and Onepoto Primary have worked closely to bring this exciting project together and make it a reality. This is the second 'Bikes in Schools' project implemented in the Harbour region.
The tracks have the stated goals of:
Increasing regular cycling opportunities for children
Improving cycling skills and fitness